Here it is: the best product placement of the best. The fourth and the last part of the Top 40 product placements of all time. Just a quick reminder – this is my personal and very subjective list, based on the movies I've seen, articles and books I've read, the available data and my personal affinity.
No. 10 – Pepsi and Nike in Back to the Future
The Back to the Future trilogy is a comedic science fiction film series directed by Robert Zemeckis. Since it involves time travelling, it also presents an opportunity to showcase different brands in different time periods. Some brands, notably Pepsi and Nike, have embraced the opportunity and made examples of great product placement.
Some reports suggest that Zemeckis at first wanted to have Coca-Cola in the movie, but realised that Coca-Cola's bottle was basically the same throughout the 20th century. So he approached Pepsi, which was willing to participate.
The trilogy begins in 1985 when Marty McFly is accidentally sent back to 1955 in a time machine built by eccentric scientist Emmett L. Brown, also known as "Doc". The most interesting product placement occurred in the second movie, when Marty was sent to 2015. There he finds a Pepsi Perfect and special lace-free Nike shoes. In 2008 Nike made special limited edition Hyperdunk sneakers that were very similar to those from the movie. However, only about 1,000 pairs were made. Can we expect another model in four years time?
No. 9 – Apple iPad in Modern Family
I included iPad's placement from the TV series Modern Family in 2010 overview as the best product placement of the year. It was awesome. The episode with iPad as a focal point of the story was aired just three days before the stores started selling Apple's new gadget. The plot was flawless: the Dunphy family tried to buy their dad an iPad for his birthday, which coincided with the device's launch day. Of course family members didn't pre-order it, so they tried desperately to fulfill their father's birthday wish.
Phil Dunphy is a bit of a geeky dad and calls himself an early adopter. The fact that iPad goes on sale on his birthday is an additional effect to his desire for it. He even said: "It's like God and Steve Jobs got together to say 'We love you, Phil!'"
The product was integrated in the plot; it was mentioned in different contexts, it was shown on the screen, it was used and it achieved the "I want to buy this product!" effect.
No. 8 – Ray Ban and US Navy in Top Gun
As I said in the blog post Product placement highlights – Ray-Ban Aviator Top Gun had a huge impact on several generations on moviegoers. The movie included a handsome and fearless lead character, who not only defeated enemies in the air, but also won a heart of a beautiful woman. He was dressed in jeans, wore a leather jacket and a pair of sunglasses. And he rode a motorcycle and flew a military fighter. Beat that!
Ray-Ban and Tom Cruise previously cooperated in the movie Risky Business. In Top Gun he and his Navy colleagues wore Aviators. The result: the sales of Aviator sunglasses rose by 40 per cent in the seven months following the release of the movie.
Top Gun is an over-the-top patriot movie. Its producer, John Davis, stated that "Top Gun was a recruiting video for the Navy. It really helped their recruiting. People saw the movie and said, 'Wow! I want to be a pilot.'" They were very successful. The US Navy set up recruiting booths in the major cinemas to try and catch some of the adrenaline charged guys leaving the screenings. They even stated that after the release of the movie the number of young men, who wanted to be Navy aviators, went up by 500 per cent.
No. 7 – Reese's pieces in E.T.
Reese's Pieces is a Citizen Kane of product placement. This is one of the classic examples of successful product placement that was part of many marketing books, articles and blog posts. For a really top product placement you have to be involved in a successful movie or TV series. E.T. was a huge blockbuster.
This case became famous because there were two brands involved: the big M&M's and a relatively unknown Reese's Pieces. According to Jean-Marc Lehu's book Branded Entertainment Steven Spielberg had initially made contact with the brand leader in the confectionery market, Mars, to ask permission to use M&M's, but Mars declined the offer. Probably they've thought that it was not worthwhile. Spielberg then decided to film the scene with Reese's Pieces from Mars' competitor Hershey. When the movie was finished it was Spielberg who proposed a tie-in promotion to Hershey, which they accepted. Reese's Pieces participated in the film's launch campaign, investing $1 million and in return it was allowed to use the film in its advertising campaigns.
Reese's Pieces had an important part of the story and are known as UFO's candies. The success of that placement was huge — Reese's Pieces saw a reported 65 per cent jump in profits just two weeks after the movie's premiere.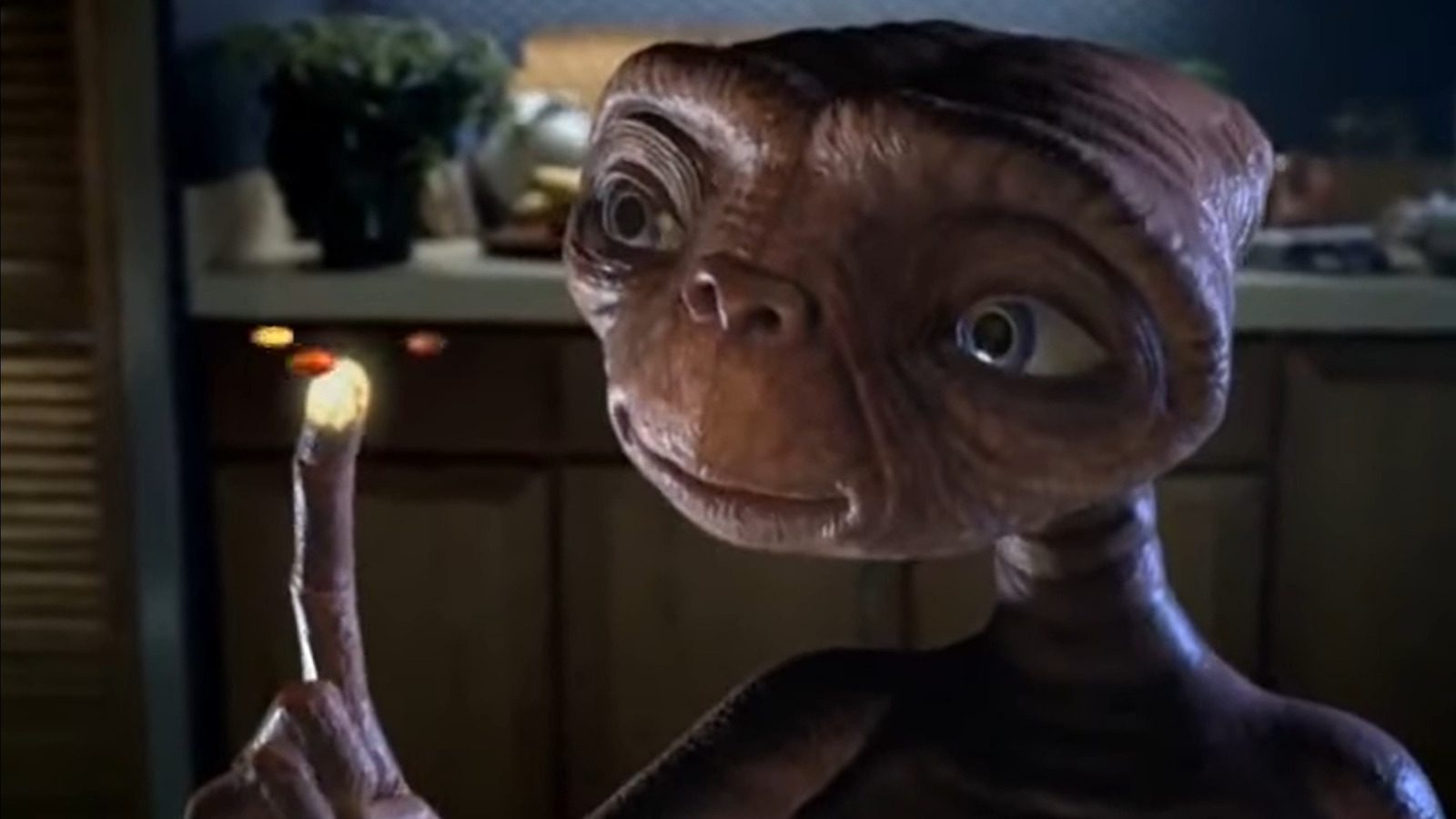 No. 6 – Ray-Ban in Risky Business
I suppose Ray-Ban and Tom Cruise were a perfect match in the 1980s. Tom first wore Ray-Ban's model Wayfarer in 1983 in comedy Risky Business and then Aviators in Top Gun in 1986.
Ray-Ban has been manufacturing Wayfarer model since 1952, when their design was a revolutionary break from the metal eyewear of the past. The model was popular in the 1950s and 1960s, but then somehow faded from the limelight. Apparently annual sales were only about 18,000. But then something changed. In 1982 Ray-Ban signed a $50,000-a-year deal with Unique Product Placement of Burbank, California, to place Ray-Bans in movies and television shows.
Risky Business was the beginning of a Wayfarers phenomenon. Tom Cruise wore the model in the movie and they also put them on the cover of the movie. This product placement contributed to fantastic sales that year: 360,000 pairs of Wayfarers were sold in 1983. By 1986, after appearances in Miami Vice, Moonlighting, and The Breakfast Club, sales had reached 1.5 million.
No. 5 – FedEx in Cast Away
In Cast Away Tom Hanks is Chuck, a FedEx employee who is stranded on an uninhabited island after FedEx's plane crashes on a flight over the South Pacific. The film shows his attempts to survive on the island using leftovers of his plane's cargo, as well as his eventual escape and return to society.
That kind of placement can be a little extreme – you don't really want the plane with your logo to crash into the ocean. FedEx's placement was risky also because almost all cargo was lost, an employee opened several packages, even though he wasn't authorized to do so (we have to admit that he was alone on a desert island) and one lost parcel was delivered with a very long delay. However, FedEx pulled it off brilliantly.
Gayle Christensen, director of global brand management at FedEx, said the scene in which the FedEx plane crashes into the ocean, stranding Hanks on a deserted island, gave the company "a heart attack at first." FedEx admitted that they didn't pay for product placement, although they provided logistical support for the movie. "The greatest impact for us was not in the U.S. since our brand awareness in the U.S. is very high," said Christensen. "Where we did see a difference is offshore, in Asia and in Europe, where our brand awareness was not as high."
Read an in-depth analysis of FedEx product placement in Cast Away.
No. 4 – Manolo Blahnik in Sex and the City
Manuel "Manolo" Blahnik Rodríguez is a 69-year old Spanish fashion designer and founder of the self-named, high-end shoe brand. He opened his first shop in 1973 by buying out an existing shop called Zapata in London's Chelsea. In the last couple of decades several celebrities wore his shoes and Madonna even described them as "better than sex."
Manolo Blahnik was sometimes described as the fifth lead in the TV series Sex and the City; mainly because of the sheer number of times his shoes were worn or mentioned by the Famous Four. In one scene in the Season 4 Carrie found a pair of black shoes and said: "Oh, my God! Do you know what these are? Manolo Blahnik Mary Janes. I thought these were an urban shoe myth!"
"I adore Ms. Parker," Blahnik once revealed. "The character she played has had such a role in my career – I cannot help but regard both of them as muses!" However, in 2009 Blahnik revealed in an interview with The Sunday Telegraph "If people talk to me about Sex and the City, I get sick. The taxi drivers recognize me now. It becomes too much and I don't feel comfortable. I have never wanted to be a celebrity designer."
Nevertheless Carrie's shoe obsession in Sex and the City helped catapult Manolo Blahnik to international fame, something all designers wish for.
No. 3 – Ford Mustang in Bullitt
I've started the blog post Product placement highlights – Ford Mustang in Bullitt with a question: "Which is the best and most famous car-chase scene of all time?" The answer: a 9 minute and 42-second drive through the hilly streets in and around San Francisco from the movie Bullitt. It includes Steve McQueen in 1968 Ford Mustang GT390 and two killers in a black Dodge Charger.
Ford Mustang was introduced in April 1964. It was stylish, elegant and affordable car. Ford estimated that they would sell around 80,000 Mustangs in its first year, but it sold more than a million in its first two years.
Bullitt premiered in 1968 and made history with the car-chase. It is intense, brilliantly executed and after all these years it still feels good when watching it. In 2001, Ford made a special version of its Mustang GT with the Bullitt nameplate and sold a total 5,582 cars. In 2007 they revealed a new version. Engineers modeled the car's exhaust note on the engine sound heard in the original movie, based on a specially mastered DVD. To make it even more desirable, Ford decided to produce only 7,700 units (even though there were reports of 3,000 additional units due to the high demand).
Somehow I'd like to have a Mustang …
No. 2 – Kodak Carousel in Mad Men
To really understand this product placement you have to watch the first season of Mad Men, in my opinion one of the best TV series ever made. At the end of the last episode Don Draper has to present an idea for an ad for a new product to Kodak's representatives. However, because of his issues with the late brother, his wife and his adultery; problems at the agency, he's in a difficult state. But nevertheless Jon Hamm produced arguably the best few minutes in the history of television.
Kodak's roduct placement had all elements of a great placement:
the product is mentioned;
the product is used;
the product is shown on screen;
the product is emotionally attached to the main character;
the product is used as a metaphor.
I suggest you watch the clip with product placement for Kodak Carousel from this episode.
I'll again use the words from one of my favourite TV critics Alan Sepinwall: "How freakin' great was Don Draper's sales pitch to the Kodak people? So great that he wowed the Kodak guys into cancelling their other pitches. So great that it made me want to invest in a slide projector even in this age of digital photography. So great that it sold Don himself on illusion of the happy life he appears to share with Betty."
Kudos to Jon Hamm and Matt Weiner, the writer and executive producer, for creating this masterpiece.
No. 1 – Wilson in Cast Away
In my opinion there is only one product placement better than Kodak Carousel in Mad Men. The winner is Wilson from Cast Away.
I've mentioned several times there are three classic types of product placement. A product or brand can be visible, used or someone can mention it. But in the year 2000 we had an excellent example of a fourth type: a brand became the character.
When Chuck (Tom Hanks), the main character from the movie crashed on the island, he was there alone. But somehow he got company … from the unlikeliest source. When he opened boxes from the plane, he found Wilson volleyball. That ball eventually became "Wilson", Chuck's only company on the island. This product placement is very interesting and special for one particular reason: product was not just visible and used, and Chuck didn't just speak about it – the product became a character. It "listened" and provided company to Chuck.
As a result of product placement Wilson Sporting Goods Company created a promotional ball, complete with the facial markings as seen in the film. Interestingly in 2011 you can still buy Wilson Castaway Volleyball from Amazon or Target.
Apparently Wilson didn't pay for product placement and even if it happened coincidentally, if was perfect. In my opinion it's the best product placement ever. Hanks' and Wilson's relationship was genuine and as a viewer I perceived Wilson as a character, not some branded product. From a brand's point of view that's even better than highly visible placement or heavy usage. And in case of Wilson it was for free.
Top 40 Product Placements of all time: 20-11
Top 40 Product Placements of all time: 30-21