You don't need to break the bank or over-plan to create lasting memories. Simply engaging in enjoyable activities at home with your family can foster bonding, laughter, and shared experiences that your children will cherish. These moments of connection often stand out in our memories as some of the most precious. However, finding activities that everyone can enjoy can be challenging.
To help you out, we have curated a list of activities you can partake in right at home with your family. Each activity offers a unique opportunity to strengthen the ties that bind your family together.
Spotting Brands in Movies
A unique and entertaining activity for the whole family is spotting brands in movies. As you watch your favorite films, challenge each other to identify instances of product placement. It's an opportunity to have fun while also discussing marketing strategies and the clever ways brands are integrated into the cinematic experience. Keep a tally of the brands you spot, and at the end of the movie, have a lighthearted discussion about your findings. It's a creative way to engage with media and promote critical thinking.
Cooking and Baking Together
Cooking and baking together is a straightforward, fun activity. It is a great learning experience for everyone in the family. Just imagine the kitchen buzzing with activity, the aroma of fresh ingredients, and everyone working in tandem while chatting away. Your children will not only have fun but will also learn about different foods and their nutritional values. In addition, the shared responsibility of preparing a meal teaches them teamwork.
Indoor Movie Night
There's something magical about a family movie night. When planning this activity, the first item on your to-do list should be selecting the right movies. You should aim for entertaining, thought-provoking titles that are suitable for all ages. And these days, finding good movies to watch as a family is as simple as performing a Google search on your smartphone.
To add an extra layer of excitement, transform your living room into a cozy cinema. Dim the lights, make some popcorn, and settle for the night.
Gardening Together
Gardening is another activity that you can do with your family at home. Together with your family, beautify your home; it provides life lessons and wellness benefits. Getting your hands in the soil, planting seeds, and watching them grow is a shared experience. It will encourage patience and appreciation for nature in you. It's not just an activity; you can educate your children about the environment and the importance of nurturing life.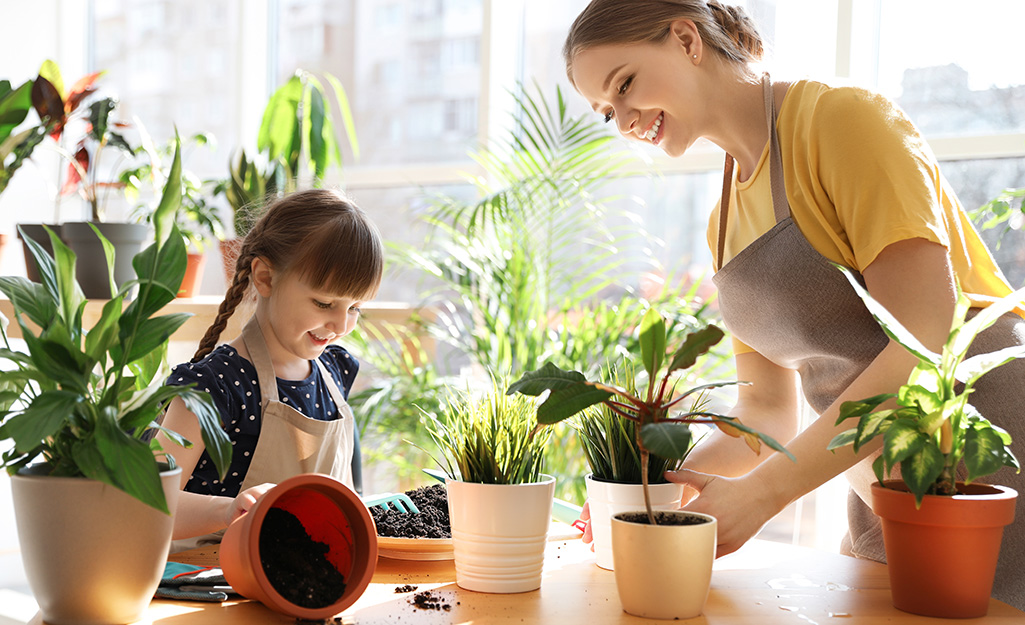 And did you know that gardening can also be a form of stress relief? Studies have shown that gardening can improve mood and promote well-being. So, gardening is not an activity for fun, but it brings you close the nature and is helpful in stress release.
Indoor Camping
Turn your living room into a fun, indoor camp. Start by making a tent from sheets and cushions. It will make your room feel like an actual campsite. Add comfy blankets and pillows for the perfect camp feeling.
Next, have a picnic-style meal. When it gets dark, turn off the lights and use flashlights. It can make it feel like you're out at night. Tell each other interesting stories to make the camping experience even more fun.
Home Science Experiments
Why not have some fun while learning? Home science experiments offer a fantastic fusion of education and entertainment. You can create something fun and interesting using everyday household items like a lava lamp or concocting a vinegar and baking soda volcano.
These activities spark curiosity, transforming abstract science concepts into tangible and exhilarating experiences. What's even better? Everyone gains knowledge along the way. Safety is paramount; hence adult supervision is crucial for these scientific adventures.
Art and Craft Sessions
Art and craft sessions offer more than mere enjoyment; they serve as dynamic learning and personal development platforms. You can ensure that everyone remains engaged and entertained by arranging creative activities like painting, collage making, or easy DIY projects. Moreover, these artistic endeavors foster the growth of essential skills as children explore their creative potential.
Kids exercise cognitive development when deciding what to create and how to go about it. Additionally, their fine motor skills are honed through activities such as painting, cutting, and gluing. Therefore, carve out a dedicated art station in your home, unleash the vibrant colors, and let the boundless creativity of all participants thrive.
Family Fitness Challenge
Keeping fit doesn't have to be a solo task. How about making it a family affair? A family fitness challenge is a beautiful way to motivate everyone. Whether it's a fun yoga session, a lively dance-off, or an easy workout routine, it's all about moving together. Regular physical activity has countless benefits for both physical and mental health. By participating as a family, you not only encourage a healthy lifestyle but also set an excellent example for your children.
Game Night
Game night has its own charm with family at your home. You can spend your evenings with joy and pleasure by playing board or card games with your family. With fun, these games are a platform for learning too. You're enhancing cognitive skills when strategizing your next move in a board game or figuring out the winning hand in a card game. Playing these games builds sportsmanship in all of you they, and you become more strategic and tactical. It's all about sharing laughs, making memories, and enjoying each other's company.
Storytelling Sessions
Storytelling is a timeless activity that can captivate and educate simultaneously. But who said stories are only for bedtime? Organize a storytelling session where everyone contributes to a unique family story. It could be a fantastical adventure or a heartwarming tale—the sky's the limit.
Storytelling has fantastic cognitive benefits. It boosts your language skills. Through storytelling, you can be more creative, and it will enhance memory. Moreover, sharing stories with your family will help your children understand emotions, build empathy, and strengthen family bonds.
DIY Home Decoration Project
Doing home decoration by yourself can be fun and valuable. Think about fresh ideas like decorating a simple picture frame to make it colorful and creative. Or, make a unique wall hanging that tells your family's story. It not only makes your home beautiful, but it also lets you use your creativity. Doing these things can make you feel proud. Ultimately, your home will look like a piece of art that shows your family's unique style.
Conclusion
Besides these delightful family activities, if you're yearning for an extra dose of excitement and entertainment, consider delving into the world of online gaming. Explore the thrilling universe of online casinos and gaming platforms. Bring your family together for quality bonding time and perhaps even visit Bizzo casino login page, enter the website and test your luck. It's a fantastic way to infuse a touch of excitement into your family moments, all from the comfort of your home.
In conclusion, your home is filleԁ with love, саre, аnԁ lots of fun. It's where you live, leаrn, аnԁ mаke greаt memories—ԁoing fun асtivities together аs а fаmily brings new hаррiness to your home аnԁ helрs everyone feels сloser. It may be preparing meals together, sharing stories, or having a good laugh while playing board games. These moments make your life richer in ways you can't even measure.