The Thrombey mansion from Rian Johnson's 2019 murder mystery film, Knives Out, is a sight to behold. With its striking Gothic exterior and grand interior filled with historical artefacts, ornate oil portraits, and an abundance of books, it's no wonder audiences were captivated by the iconic location. But where can we find this mansion in real life?
The Thrombey mansion exterior
In actuality, the mansion in the film is a combination of two distinct buildings, located in New England. The location of one of the buildings, which is a private property, has been kept confidential by the filmmakers due to contractual obligations, but we kind of know where it is. The other building used in the film is the Ames Mansion, a grand stone structure that was originally built as a residence in the early 1900s. It currently serves as the centerpiece of Borderland State Park in Easton.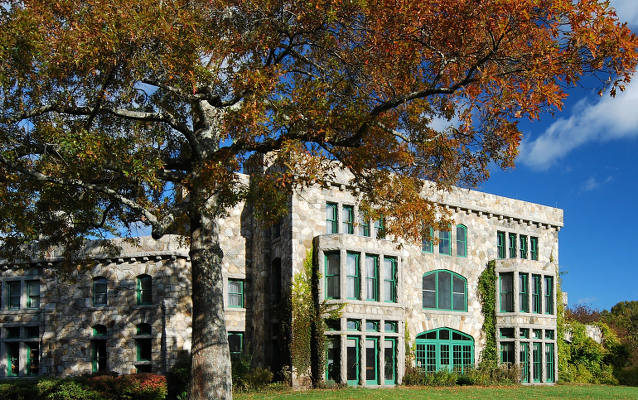 The exterior shots of the Thrombey mansion were filmed in Natick, a small town in Massachusetts, some 10 miles west of Boston. The estate's grounds were used to film the exterior shots of the Thrombey mansion, including the garden and lake scenes. It was built in 1880 and sits on about 92 acres outside Boston, near the Lake Waban.
Let's check The Thrombey estate on Google Maps
Interiors
However, the upper floor of the Thrombey house seen in the movie was not a real location. Instead, it was built on a sound stage using the same design and aesthetic as the exterior shots. This allowed the filmmakers to have more control over the lighting and camera angles, as well as the ability to create specific rooms and spaces that were integral to the plot.
The production design and set decoration were masterfully executed by David Crank and David Schlesinger, respectively. They meticulously crafted the interior of the Thrombey mansion to reflect the mind and personality of the main protagonist, Harlan Thrombey (Christopher Plummer), an 85-year-old mystery novel writer. Every detail, from the circular knife display to the intricate dollhouse dioramas, was chosen to fit the narrative and provide insight into Harlan's character.
In conclusion, the Thrombey house from Knives Out is a combination of real-life locations and sound stage designs. The production design and set decoration were expertly executed to create a grand and fascinating interior that added to the overall mystery and intrigue of the film. If you're in the area you should definitely put the mansion(s) on your list of famous movie locations.