Movies and casinos are among the oldest entertainment pairs. Casino gaming elements have been used in several movies since the 1960s. Casinos perfectly fit in with rich and affluent storylines with a central focus on action thrillers and intriguing scenes.
Combining films and popular casinos is one of the most popular themes explored in online casino games today. Most slot games use these themes to create custom gaming experiences for players. James Bond (007) is probably the most popular casino movie character, with movies shot in different popular casinos. This article will explore some popular casinos featured in films.
Top movies featuring popular casinos
Most casino scenes in movies are shot in real-time. It is almost impossible to create casino scenes in studios with all the elements of casino gaming present. Most movie producers prefer to use real casinos.
Here are examples of some movies that feature popular casinos:
Casino
The 1995 film by Martin Scorsese is perhaps the most prominent movie that shared significant details about casino gaming. Even its title and the wonderful acting of Robert De Niro and Sharon Stone were reminiscent of expert casino gamers.
Casino was shot in Las Vegas at two top casino gaming centers – Stardust Resort and Casino, and Fremont Hotel and Casino. Casino shares appreciable insights into the operations of Las Vegas' top casinos.
Casino Royale
Casino Royale stars Daniel Craig as James Bond (007). The film was shot across several top casinos, including the Grand Hotel Pupp in Karlovy Vary, Czech Republic, and Casino de Monte-Carlo in Monaco.
Bond plays the role of a spy on a mission to track down a criminal banker (Le Chiffre) who used the casinos as a front to launder money for suspected terrorists.
Ocean's Eleven
Ocean's Eleven was shot at the popular Bellagio in Las Vegas. This film featured the biggest casino heist. Top stars Brad Pitt and George Clooney played lead roles. The film also featured other top locations in Las Vegas. It offered viewers a chance to explore Vegas' massive luxurious scenery, with the Bellagio's fountain and the Mirage volcano prominently featured.
The Hangover
Most casino movies are action-packed with gripping scenes. The Hangover takes a different approach. It is a comedy film featuring a group of friends who went to Vegas for a Bachelor's party. The Hangover was shot at Caesar's Palace and Rivera Hotels in Las Vegas. The movie also explores other interesting sights in Las Vegas and will have you reeling in laughter once you press play.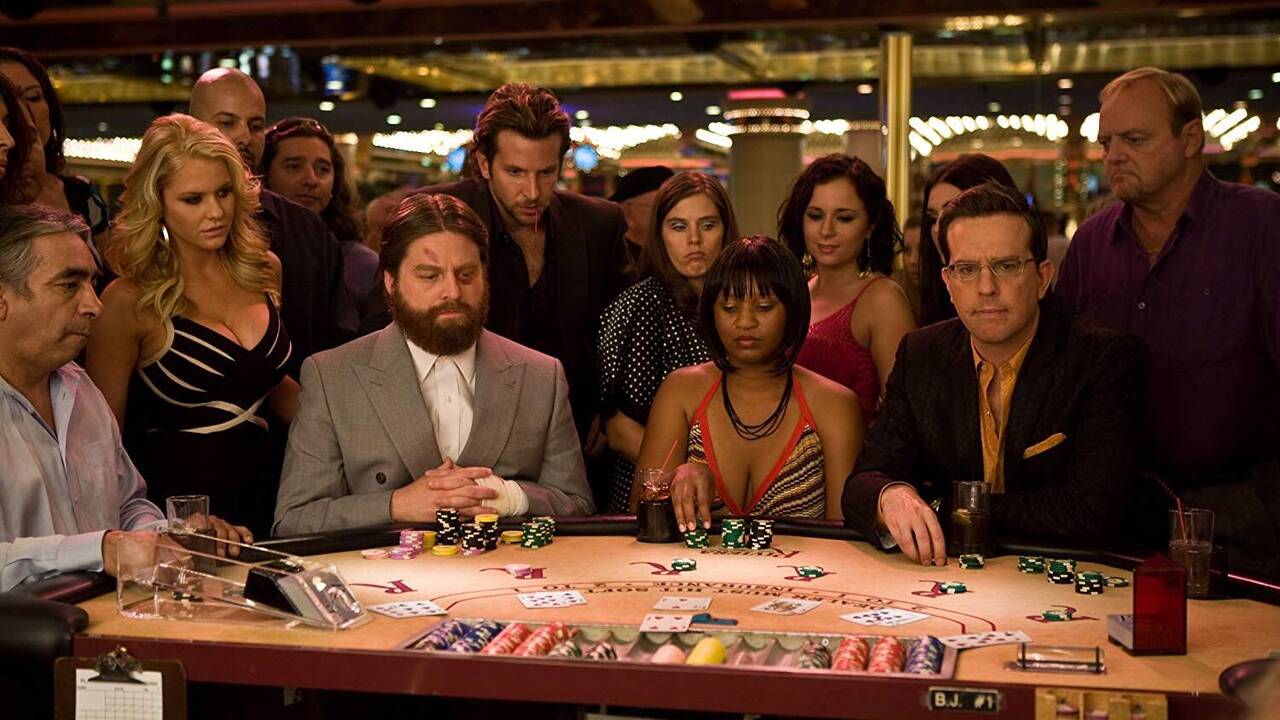 Casino movies have been promoting casino gaming, and many misconceptions surrounding casino gaming have been eliminated with the help of these casino films. Movies are now featuring online casino gaming too, which signifies that the relationship between films and casino gaming will continue to flourish.