When Danish striker Nicklas Bendtner scored his second goal vs Portugal in the European Football Championship a few days ago, he lifted his jersey and lowered his shorts. There wasn't wearing anything under his jersey, but we could see 'PADDY POWER' written on his underpants. I first thought "That's awesome!" My second thought was "What exactly is Paddy Power? An underwear brand? I have to google it." And finally I thought "That move might get Bendtner into trouble."
Paddy Power is not an underwear brand, of course. It's an Irish bookmaker and is known for its controversial advertising campaigns and betting markets.
Goal celebrations with football players lifting their jerseys and thus revealing different messages are not something new, but on the other hand they're pretty common in those days.
Robbie Fowler & the dockers
The first such goal celebration that I remember occurred in March 1997. It was an infamous celebration by Liverpool striker Robbie Fowler after scoring against Brann Bergen. Fowler was then fined by European football organization UEFA for pulling up his jersey after to reveal a mock Calvin Klein T-shirt in support of striking Liverpool dockers.
Fowler and his teammate Steve McManaman were members of spice boys and according to Wikipedia they had became well-known for pioneering (in the English Premiership) several jersey/T-shirt related celebrations with political or arrogant slogans. The pair would doodle these on T-shirts hidden under their jerseys, and unveil them before live television cameras after they scored goals.
Taking jerseys off during the game eventually led world football organization FIFA to punish the removal of jersey during a goal celebration with a yellow card a decade later.
Francesco Totti & his wife
Italian forward and Roma's captain Francesco Totti was also famous for his goal celebrations and showing various messages. Two of them were for his wife Ilary Blasi: '6 Unica' ('You're the One') and '6 Sempre Unica' ('You're Still the One') and there was also a political one 'Liberate Giuliana' ('Free Giuliana') in honor of
Giuliana Sgrena, an Italian journalist kidnapped in 2005 in Iraq.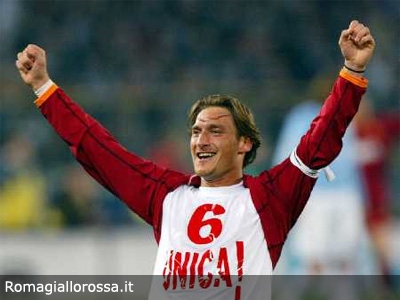 Mario Balotelli & Raffaella & Why me
Another Italian football player had problems with revealing messages under his jersey. Manchester City's striker Mario Balotelli got involved in several scandals during his career. One of them happened in October 2011 when Mario revealed a T-shirt reading, 'Why always me?', which was a message to the media, who condemned him after it was discovered that he had set fire to his house a few days before the match.
This February Mario showed another message: 'Raffaella ti amo' ('Raffaella I Love You'), which he wrote for his girlfriend Raffaella Fico. Raffaella is a 24-year-old Italian reality TV star-turned celebrity WAG, who was with Balotelli for several months. She's now his ex-girlfriend following his antics with other women.
Andres Iniesta & Dani Jarque
Daniel (Dani) Jarque was a Spanish footballer who played as a central defender for Barcelona's other club Espanyol. He was named team captain in July 2009, one month before his death from a heart attack, at the age of 26.
Andres Iniesta, Jarque's close friend, scored the winning-goal for Spain in the FIFA World Cup final in July 2010. When he celebrated his goal, he removed his jersey to reveal a T-shirt with the sentence 'Dani Jarque siempre con nosotros' ('Dani Jarque, always with us').
Gary Cahill & Fabrice Muamba
Fabrice Muamba is an English footballer playing for Bolton. On 17 March 2012, he suffered a cardiac arrest and collapsed during the first half of an FA Cup match between Bolton and Tottenham.
The next day Gary Cahill, Chelsea defender and Muamba's former team-mate, scored for Chelsea and then lifted his shirt to reveal a message: 'Pray for Muamba'.
Kaka, Artur Boruc & religion
When Brazilian superstar Kaka played for AC Milan he had the words 'God is faithful' stitched onto the tongues of his boots. But one of the most iconic images of his faith in God could be seen in May 2007 when AC Milan beat Liverpool in the Champions League final.
Artur Boruc is a Polish goalkeeper who used to play for Celtic in the Scottish Premier League. Before we come to the T-shirt incident you have to know that Poland is very Catholic country and there is a fierce rivalry between two teams from Glasgow: the Catholic Celtic and protestant Rangers.
After Celtic's won against Rangers in April 2008 Boruc revealed a T-shirt bearing the slogan 'God bless the Pope'.
The Verdict
These are some of the most notorious or memorable examples of celebrations with the use of T-shirts worn under jerseys.
But what about the rules? We all know that if a football player removes his jersey after scoring a goal he'll be punished with a yellow card.
Decision 1 from FIFA's Law 4 that covers players' equipment states that:
"Players must not reveal undergarments showing slogans or advertising. The basic compulsory equipment must not have any political, religious or personal statements. A player removing his jersey or shirt to reveal slogans or advertising will be sanctioned by the competition organiser. The team of a player whose basic compulsory equipment has political, religious or personal slogans or statements will be sanctioned by the competition organiser or by FIFA."
Today, on 18 June 2012, UEFA decided about Bendtner's punishment. It's severe and in my opinion too high. He's banned for one game and fined 100,000 euros!
Richard Mason of the Northern Echo posted his opinion on Twitter:
"UEFA fines: £45,000 Spain 2004 (racism); £16,500 Serbia 2007 (racism); £10,000 Croatia 2008 (racism). €100,000 Bendtner (exposing pants)."
Paddy Power was of course shocked: "We are appalled with the severity of Nicklas Bendtner's fine for displaying Paddy Power on the waistband of his lucky underpants recently. This is a hysterical and deeply cynical move by UEFA dictated by pure commercialism and is a far greater penalty than recent UEFA fines for far more serious incidents."
Former England international Gary Lineker also commented on UEFA's decision on Twitter:
"The decision to fine Bendtner €100K for exposing his sponsored undies, when fines for racism are considerably less, is quite frankly, pants!"
Totally agree!